Wedge wire screen pressure basket
| | |
| --- | --- |
| Category: | Wedge Wire Screen Basket |
| Material: | stainless steel 304,304L,304HC,316,316L,321,430 or as per your request. |
| Properties: | wedge wire screen basket |
| Application: | water-treatment , water well drilling ,oil well drilling ,mineral processing, coal-cleaning plant |
if you are interested in receiving more information or have a question regarding any of our products please fill out the form above and we will contact you within 24-48 hours.

Email:sales@ubowedgewire.com

Author: Maria
Detailed description of the Wedge wire screen pressure basket
This type of screen made up of rods and warp, the rod can be round wire,triangular wire and trapezoid wire.The wire is welded to the rods and produces a rigid unit that has high strength and minimum weight.The warp is triangular wire(v-shape wire). Wedge wire screen pressure basket have a structure and high open area;as well as accurate slot dimension. Wedge wire screen pressure basket have heat -resistant,anti-corrosive,good machine capability,last long ,safety and reliability and so on.
Application of Wedge wire screen pressure basket
wedge wire screen is widely used in filters, strainers, architectural screens, water treatment underdrains, media support grids and overlays, infiltration gallery screens, lauter tun screens,many other liquids, solids separation applications.
Characteristics of Wedge wire screen pressure basket
The benefit of wedge wire screen is more open area, have very precise openings ,maximum design flexibility, stronger and more durable, economical ,easier installation and long-term operating etc.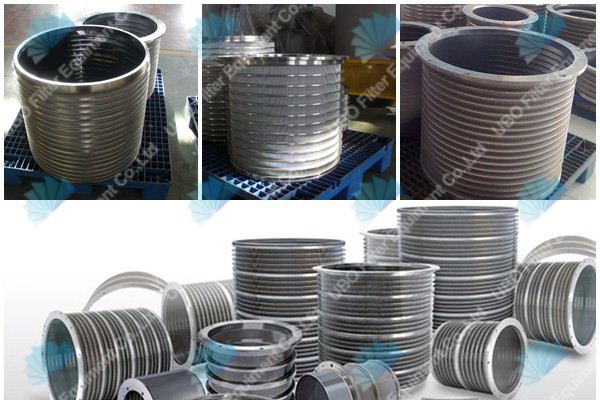 UBO is specialized in producing and distributing wedge wire screen,lauter tun screens,sieve bend screen,sieve plate screen,water strainer&nozzle,screen nozzles,centrifuge screens and baskets,header-lateral.
Welcome to contact us for more information and cooperation.0086-0311-83239301.
The specifications of the Wedge wire screen pressure basket:
Outside Diameter

Profile

wire

Rod

wire

Rod

quantity

Slot

size

Length

DN

Inch

mm

mm

mm

mm

mm

20

3/4

26.9

1.5*2

2*3

12

0.1~0.25

45~3000

25

1

33.7

1.5*2

2*3

14

0.1~0.25

45~3000

32

1~1/4

42.4

1.5*2

2*3

16

0.1~0.25

45~3000

40

1~1/2

48.3

1.5*2

2*3

16

0.1~0.25

45~3000

50

2

60.3

1.5*2

2*3

18

0.1~0.5

45~3000

65

2~2/2

76.1

1.5*2

2*3

20

0.1~0.5

45~3000

80

3

88.9

1.8*2.5

2*3

24

0.1~0.5

45~3000

100

4

114.3

1.8*2.5

2*3

30

0.5~2

1000~6000

125

5

139.7

2.3*2.7

2*3

36

0.5~2

1000~6000

150

6

168.3

2.3*2.7

3*5

44

0.5~2

1000~6000

200

8

219.1

3.3*4.5

3*4.7

56

0.5~2

1000~6000

250

10

273

3.3*4.5

4*6

66

0.5~2

1000~6000

300

12

323.9

3.3*4.7

4*6

72

0.5~2

1000~6000

350

14

355.6

3.7*5

4*6

80

0.5~2

1000~6000

400

16

406.4

1.5*2

2*3

94

0.1~2

1000~6000

450

18

457

2*3

4*5

112

0.1~2

500~400

500

20

508

2*3

4*5

124

0.1~2

500~400

550

22

559

2*3

4*5

140

0.1~2

500~400

600

24

610

2*3

4*5

156

0.1~2

500~400

Siot:0.1mm~2mm Tolerance:0.05
The Packaging and Transportation of the Wedge wire screen pressure basket:
You may also be interested in the following product(s)